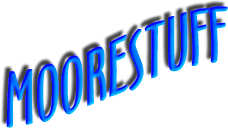 Click here for scripts I have used on this site
Java, Javascript, Applets
Website Abstraction - Java, CSS, tutorials, etc.*
HTML Goodies - DHTML, CGI, CSS, java, tutorials, image maps, frames, tables, bkgrds, colors, browsers.**
24Fun - Download java and javascripts.
Javascript World - Scripts, applets, tutorials, DHTML, and more.
Dynamic Drive - DHTML scripts, java, fonts, etc.
Image Rollover Script - Rollover script that works in Netscape, IE, and opera!
Nebulus - Javascript coders, tutorials, and contests.
Infinite Fish - My favorite rollover generator. Also...image mapping, scripts, tutorials.
Double Rollover Generator - Webpage tools rollover generator.
Mighty Mouseover Machine - Mouseover machine at builder.com for rollover effects.
Code Generator - Javascript.com's multi image code generator.
Simply - Magic Mouse Wizard - utility that will help you in creating fantastic Magic MouseTM interfaces, remotes and effects.
w3exit.com
FresherImage.com
guistuff.com
Web Consortium/Standards
Web Consortium - World Wide Web Consortium Homesite.
Code validator - Code validator for HTML 4.01 compliance with W3 Standards.
Style Sheets - Style Sheet Reference.

Flash Tutorials
Flash 4 All - Tutorials, sounds, links, site of the week, best in history, downloads, help, etc.
Flash Kit - Links, tutorials, sounds, resources, help, downloads.
Flashzone - Tutorials, downloads, movies.
Echo Echo - Toots, tutorials, resources. Also CGI resources, Java, HTML, and more.
Flash Planet - Site of the week, .Fla's, sounds, clipart, tutorials, resource links, and generator.
Extreme Flash - Movies, tutorials, links.
Zero Gravity - Links to tutorials, innovational sites, resources, 3D, etc.
Flashmaster - All that.
Macromania - Covers all aspects of flash with links and reviews as well.
Software/Downloads
CNET - Lots of freeware and shareware. Download or check out their webmaster resources. Builder.com
ZDnet - Free downloads, product reviews, and PC news.
Tucows - Freeware and shareware plus ratings.
Webattack - Freeware. Internet tool provider.
Virtual Places - Excites free chat software. See other photos and surf the web on your harley!
Site Promotion/Maintenance
Add me - Add your site to several top search engines for free. Really easy.
I Need Hits - Submit your site to 36 search engines for free. Also popularity check, Meta tag generator....
Submit It Plus - A little work but submit your site to over 100 engines for free.
Easy Submit - Meta tag builder and analyzer and site submission to 29 engines, CGI, java, etc.
Net Whistle - Free site watch that will let you know if your site goes down.
Website Garage - Have your site checked and rated. Also hit counters and more.
Net Mechanic - Check and repair HTML code, broken links, test page download time, and check spelling.
Symantec Security Check & Online Virus Scanner - Scan your computer for viruses & check it's security online.
House Call - PC cillian's online virus scanner. Scan your computer online using IE or Netscape.
Zone Alarm - Add some security for free. Links to another online security check and firewall info.
Basic/Beginner
Neoplanet - Detected as IE...this browser is bad ass. Skins in metals, sci-fi, etc. Fast loading and easy.
Bravenet - Easiest, preconfigured webmaster tools. Guestbooks, hit counters, add a links, forms, etc. No CGI.
Internet Service Providers - A complete list of ISP's.
Free Web Space - Lists all the free web hosts on the internet like Geocities, Biker net, Tripod, etc.
MSN Internet Guide and Web Tutorials - Complete guide to browser basics, email, etc..
Internet Resources - To Everything A-Z!
Internet.com - Downloads, news, resources, etc.

HTML Clinic - Easy to navigate. Learn HTML, adding sound, building frames, java, etc. Meta tag generator.
HTML Goodies - Java, frames, HTML, and more. Nice to navigate.
HTML Tutorial - An interactive tutorial for beginners.
HTML Tag Index - Just as it says.
Frontpage Online Tutorial - Frontpage 98 and 2000 tutorials.
Training Online - For photoshop, java, HTML, or frontpage.
WebMasters
Webtools - Scripts, java, XML, HTML, DHTML, news, reviews, etc.
Web Review - CGI, CSS, java, HTML, and more.
Web Reference - DHTML, java, XML, Perl, graphics, tools, etc.
Webopedia - Learn anything. Java, frames, HTML, mouseovers, computer types. A computer encyclopedia.
WDVL - Web Developers Virtual Library. DHTML tools, resources, HTML, XML, java, perl, cgi, etc.
Webmonkey - Authoring, design, programming. HTML, DHTML, etc.
Search Engine Watch - Listings, reviews, resources, and tips on submitting or finding search engines.
Web Tools
Cool Text - Online generator for creating buttons and logos.
Flaming Text - This web tool creates a varity of effects, textures, and animations for text, buttons, etc.
Web FX - Cool filters and effects for your pics.
WebGFX - My favorite online rendering machines. Make killer navigational interfaces, logos, and buttons.
Media Builder - Make buttons, banners, 3D text, and download free java animatio, plug ins, fonts, etc.
Other
Dynamic DNS - Dynamic DNS Org.
Visual Basics Web Directory - Programming links, resources, tutorials.
DHTML DOM - Examples and view edited source codes.
DHTML Zone - Updated DHTML resources.
WebXchange - Web graphic developers resources.
3D Cafe - Photos, tutorials, etc.
The Matrix Vault - Graphics and PS tutorials.
Gifpile - Lots of links to graphics on the web.
Action Xchange - Listing of PS actions.
Morek - Nice textures catagorized.
3D Links - Texture sites listing. Also, good resource for 3D tutorials and more.
Zach's Archive - He has a few css how-to's, and some links to scripts
i hate microsoft